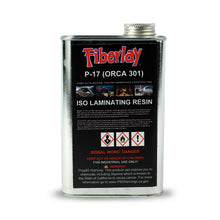 This ISO (isophthalic) polyester laminating resin is meant for small to large fiberglass projects.  It is a superior grade polyester laminating resin.  ISO resin has higher heat distortion, greater impermeability to moisture and better corrosion resistance than ortho resin. It also has a better tensile strength. ISO resin is thixotropic and is viscous enough for fast wet out of fiberglass.  It cures with a surface tack which creates better bonding between layers.  This surface tack makes it unnecessary to sand between layers.  Polyester resin is pre-promoted for curing at room temperature with the addition of MEKP (methyl ethyl ketone peroxide) catalyst. Catalyst is sold separately.
Uses-
-Mold fabrication
-Yacht/Boat construction
-Manufactured parts
-Spray up process
-Hand Lay-up Process
Application-
-Work in a well ventilated area.
-Use ISO resin at room temperature.
-MEKP catalyst should be used between 1-2% based on volume of the resin.
-Apply with a brush, spreader or fiberglass roller.
-Sanding is not necessary between layers. A polyester finishing resin can be used on the final layer to achieve a tack-free surface. 
Storage-
-Store in a cool, dry area away from sunlight or heat sources.  Make sure the containers are closed up tight.
Clean Up-
Uncured polyester resin can be removed from equipment and tools using acetone. Polyester resin should be disposed of in accordance with local, state and federal regulations for hazardous waste.
Sizes-
Sold in Quart, Gallon, 5 Gallon and Drums.  Call For pricing of drums.
WARNING: This product can expose you to chemicals including Styrene which is known to the State of California to cause cancer. For more information go to www.P65Warnings.ca.gov