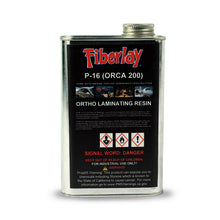 This ortho (orthophthalic) general purpose laminating resin is great for small to large fiberglass projects. It is has a low enough viscosity for quick wet out and is thixotropic so it does not sag on vertical surfaces.  It cures with a surface tack which creates better bonding between layers. The surface tack also makes it unnecessary to sand between layers. This resin cures at room temperature with the addition of methyl ethyl ketone peroxide (MEKP) catalyst. The MEKP is sold separately. 
-Mold fabrication
-Yacht/Boat construction
-Manufactured parts
-Spray up process
-Hand Lay-up application
Application-
-Work in a well ventilated area.
-Use resin at room temperature.
-MEKP catalyst should be used between 1-2% based on volume of the resin.
-Apply with a brush, spreader or fiberglass roller.
-Sanding is not necessary between layers. Wax can be added to the final layer of resin or a polyester finishing resin can be used to achieve a hard, tack-free surface. 
Storage-

Store in a cool, dry area away from sunlight or heat sources.
Clean Up-
Uncured polyester resin can be dissolved and removed from tools and equipment using acetone.  Resin should be disposed of in accordance with local, state and federal regulations for hazardous waste.
Sizes-
Sold in Quart, Gallon, 5 Gallon and Drums. Call for pricing of drums.
WARNING: This product can expose you to chemicals including Styrene which is known to the State of California to cause cancer. For more information go to www.P65Warnings.ca.gov