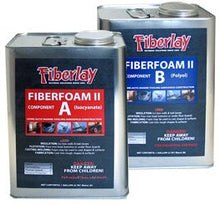 This 2lb Pour Foam is designed for void filling and molding applications.  It is a water blown, rigid polyurethane foam that is easy to mix by hand or by machine. Pour foam is a two-part liquid system that has a mix ratio of 1:1 by volume. It is great for buoyancy when used to fill gaps under boat decks.  It conforms quickly to voids.  The 2lb is the weight per cubic foot when fully expanded. This 2lb pour foam does not contain any CFC blowing agent or other ozone depleting chemicals.
Uses-
-Structural Floats
-Filling voids and gaps
-Molded parts
-Insulation
-Soundproofing
Application-
-Ideal working temperatures are 75-80°F.
-Wear old clothes.  If pour foam gets on clothes, it will most likely not come off.
-Measure out Part A and Part B with a 1:1 mix ratio by volume.
-Pour Part B into the Part A mixing cup and either mix by hand or by machine.  Mix quickly.
-Pour foam will start foaming by 45 seconds and fully expand in 7 minutes.
-After mixing well, the foam will look cloudy.  Immediately pour the foam.
-Let the foam completely cure before sanding or coating with a polyester, vinyl ester or epoxy resin. 
Storage-
-Store in closed containers in a cool, dry area.  Do not let containers freeze. 
-It is best to use pour foam within 6 months from purchase.
Clean Up-
Unmixed foam can be cleaned using acetone.  Once it is mixed together, it will need to be mechanically removed by either sanding, scraper or chisel.
Sizes-
Sold in 2 pint, 2 quart, 2 Gallon and 10 Gallon kits.
 WARNING: This product can expose you to chemicals including Ethylene Glycol which is known to the State of California to cause developmental problems. For more information go to www.P65Warnings.ca.gov