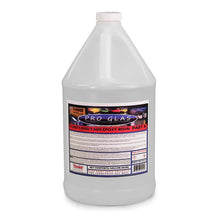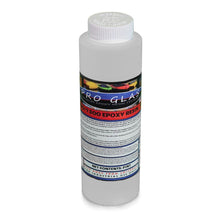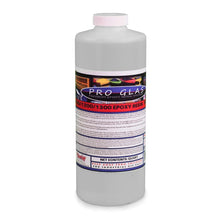 Proglas "Part A" is one part of an advanced two-part epoxy system. It is designed to be used with a 2:1 or 4:1 hardener. These hardeners come in fast, medium and slow and should be mixed by volume.  Which speed of hardener is chosen depends on the working temperature, the desired working time and the needed drying time.

Purchase Part B 2:1 hardener or 4:1 hardener to go with Part A.
Uses-
-For high strength parts
-Boat construction and repair
-Hand lay-up
-Vacuum bagging
-Adhesive for bonding fiberglass, wood, metal and some plastics
-Filling and fairing compounds
 Application-
-The work area, surface and resin should be between 75°F and 80°F.
-Proper safety clothing including gloves and googles should be worn.
-The work surface should be prepped before mixing resin.  It should be completely dry and free of contaminates such as dust and oils. Acetone or Isopropyl Alcohol can be used to clean the area. 
-It is extremely important to correctly measure the resin and hardener and mix for proper curing and performance.
-Mix the resin and hardener thoroughly for 3-5 minutes making sure to scrape the sides and bottom of the container. (DO NOT add additional hardener to try to speed up cure time. This will ruin the project).
-Apply using a fiberglass roller, brush, spreader or squeegee
-Epoxy resin and hardener dries with a full surface cure
Storage-
Closed containers should be stored in a cool, dry place.  It should be stored at temperatures below 75°F and away from sunlight and heat sources. 
Sizes-
Pint, Quart, ½ Gallon, Gallon, 5 Gallon